Aquadepot is proud to announce we are the offical distributor of Kamoer Aquarium dosing pumps in Australia.
This represents 12 months warranty and local support with spare parts at hand.
Pumps purchased in the recent group buy (Mots Mission) will have warranty covered by Aquadepot.
Two models of pump will be on offer
1.The Dosing pump is ideal for quantitative dosing of marine aquaria for additives such as Calcium, magnesium, kh and other important trace elements required by marine organisms.
2.These pumps enable the user to dose automatically without the need for human error.
3.The dosing can be made multiple times in a 24 hour period offering the inhabitants a consistent supply of nutrient and not a feast /famine scenario. Additives can be programmed to be added at different times.
4.The base control model comes with three channels that can be expanded by adding additional module/s increasing up to 15 channels. The pumps have a long service life of up to 2000 hours average use, with medical grade tubing.
5.The control panel is splash proof touch screen backlight Led display, with simple, intuitive controls.
KSP-F03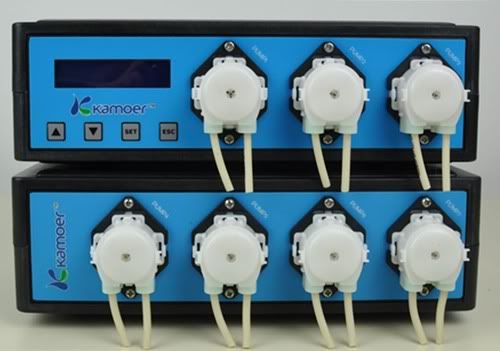 KSP-F04
is 4-channel slave unit, which is controlled by the KSP-F03 – the KSP-F04 IS NOT CAPABLE OF INDEPENDANT OPERATION.