The trip to Brisbane was fabulous!
It rained most all Thursday (at Sea World) and I got to swim with dolphins. Then it rained a little more on Friday while we were at Wet and Wild. Holy cow no one told me you had to carry tubes up so many stairs, they need elevators. I'm so outta shape.
We were able to swing by Reef Secrets to see Darren and Matt on Friday right before close, lucky they didn't throw us out, and we happily looked at all the stock and reserved some for Sunday pick up.
Saturday we headed up bright and early to Pet City in Brisbane, and all the other 10 or so stores we had on the list. PET CITY IS OUR FAVORITE STORE IN BRISBANE! They are FABulous! They had alot of really nice corals, the display was breathtaking. Just breathtaking. Corals gone mad with growth, and color, fish fat and happy. I just wanted to take the whole thing home in my carry on! Matt and Gavin are, so helpful. I really appreciated visiting the store and wish we had time to explore the whole place, but we stayed and focused mostly on the marine section. They were able to help me get my favorite new cleaning toy for the tank a fusion 20" long aquarium scraper, that is like magic, and I really love it! I brought home an oblique lined dottyback from there I'd never seen before, also known as a Mccullochi dottyback. It's bright and was really lively in the tank. I figured it would work well to hold his own against the current McCulloch's clowns in the tank. He's a beauty, but he's always hiding under rockwork. Maybe the clowns are meaner then I thought.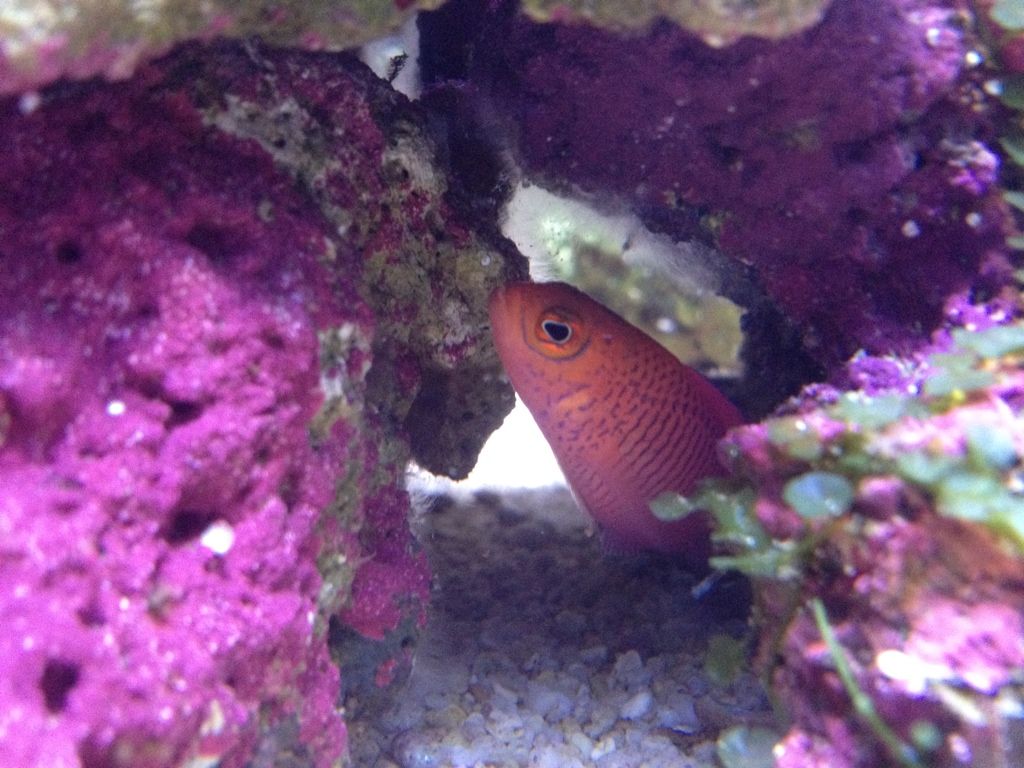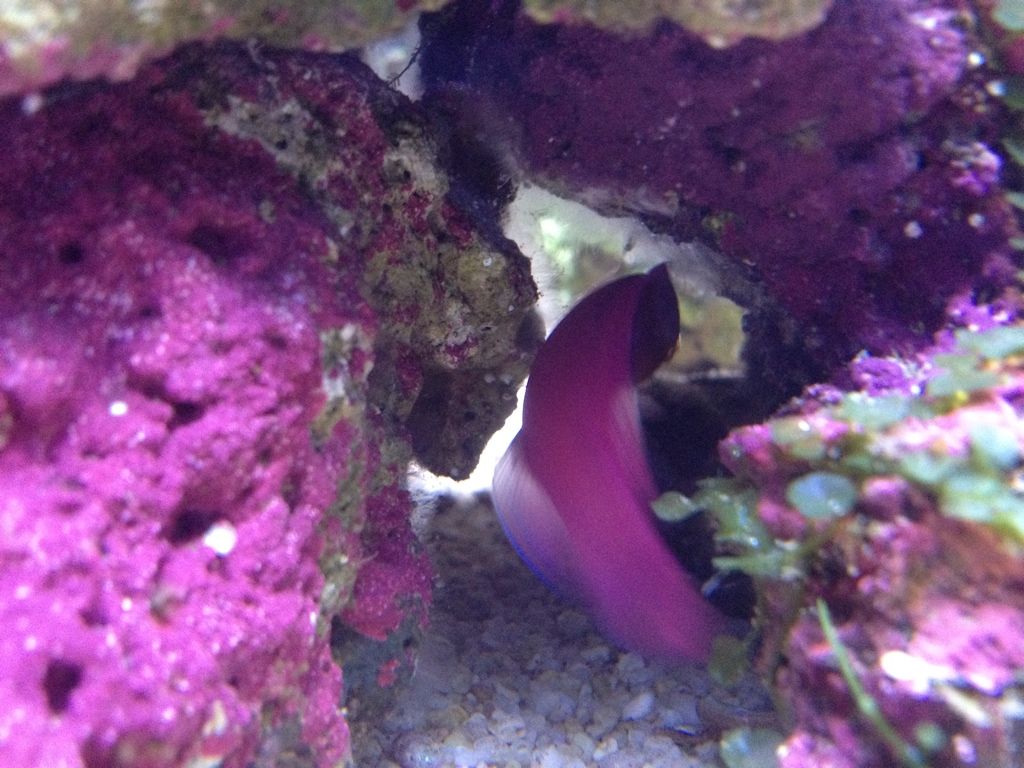 I was also able to get some really sizable fresh frags from a yellow monti with baby pink polyps.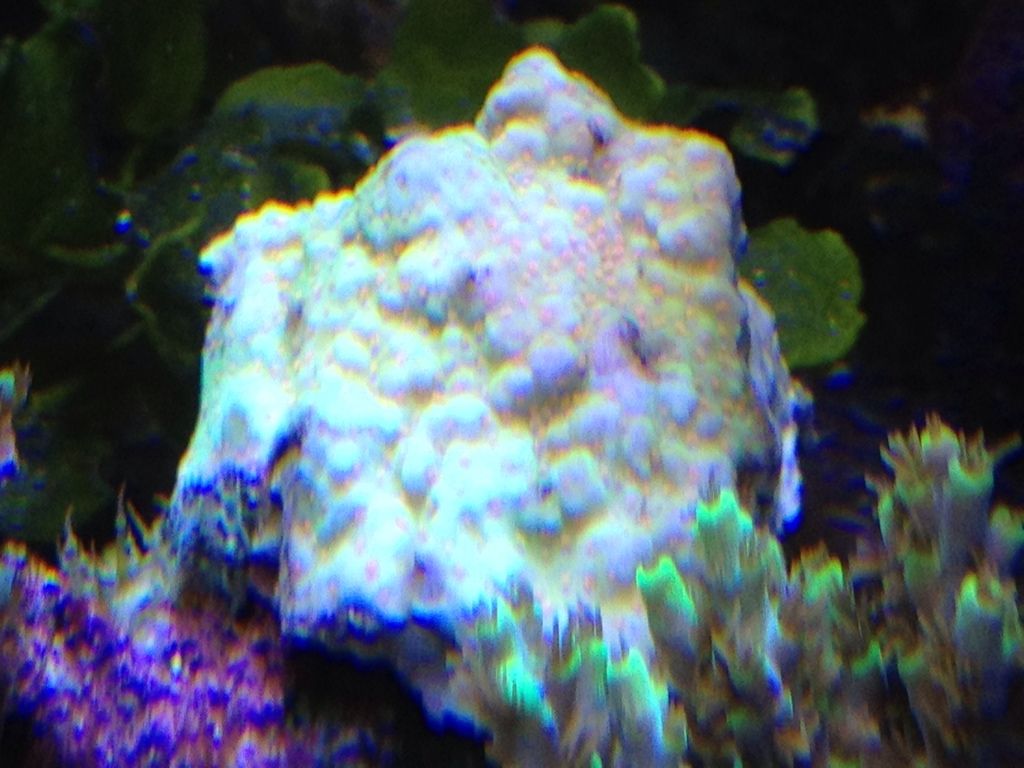 Next we headed on to some pretty average aquarium shops, and didn't deem any of them worthy of bringing anything back to Sydney with us. I will mention the sales people of one Clayfield Aquarium were extremely rude, unhelpful, and after being treated so badly we scurried out, never buying from them and making a note to warn others of there terrible attitude. That allowed us more time to spend at Atlas Aquarium! Loved it
will go back. I scored some freeze dried cyclopeeze which is normally sold in huge canisters as they had broken one up and sold smaller portions of it.
Happy times. I also found this beautiful wrasse which had been happily in there tanks and on frozen for a few weeks.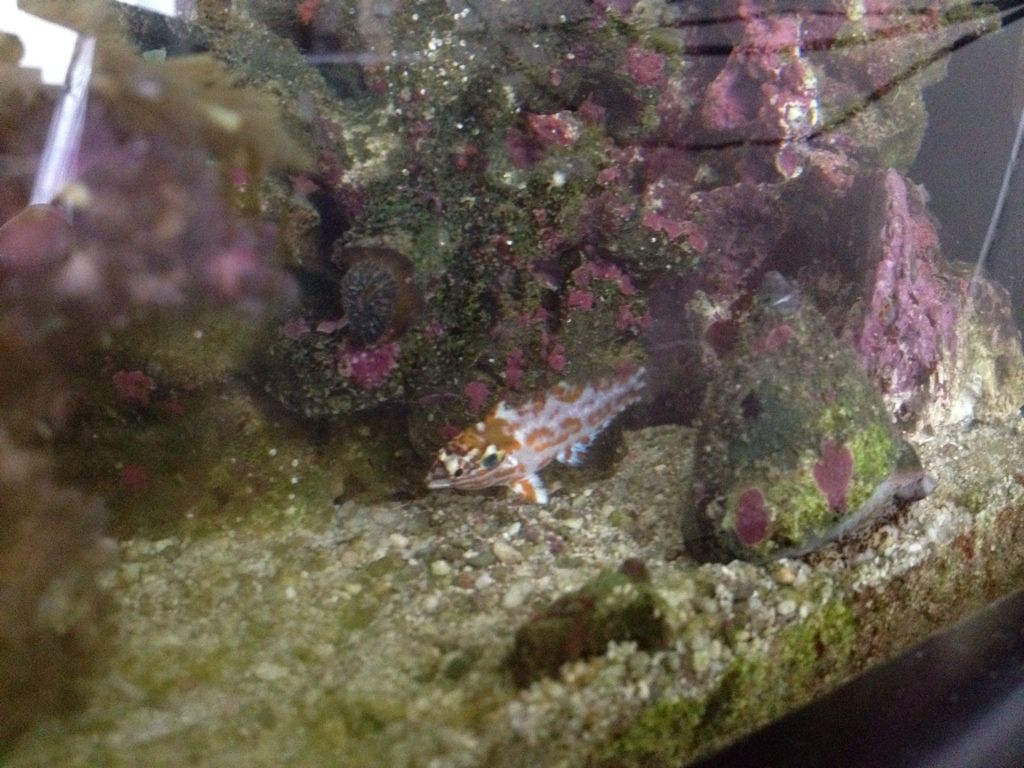 I believe the very helpful guy's name was Chris. I also added a new acan (which I realized I don't have a photo of, how embarassing
, I'll have to remember to take some when I get home) and a small blue zoa frag (again no photo. Def photo update tonight) We enjoyed talking with him, he assured us if we'd like they could arrange shipping. He even listened to us complain about how terrible Clayfield was. Nice guy, and very helpful! A++ for this one!
We visited more average and a few below average
shops. Since we were almost finished for the day we went back to Pet City to avoid traveling to Brisbane on Sunday again as we were staying on the gold coast. We packaged our fish/corals and brought them along to the last few stores on the way back down to the gold coast. Last stop for the day was Nielsen's Marine Mates. DID NOT LET US DOWN!
Another great one, and proved to be the most expensive for me. I brought back a goldish clam, a blood shrimp, a rock of blue zoas, and a special SPS, which was getting a bit stung by a nearby milli. Haven't been able to identify the 2nd coral growing on it though. That one went into the main cube though not this one.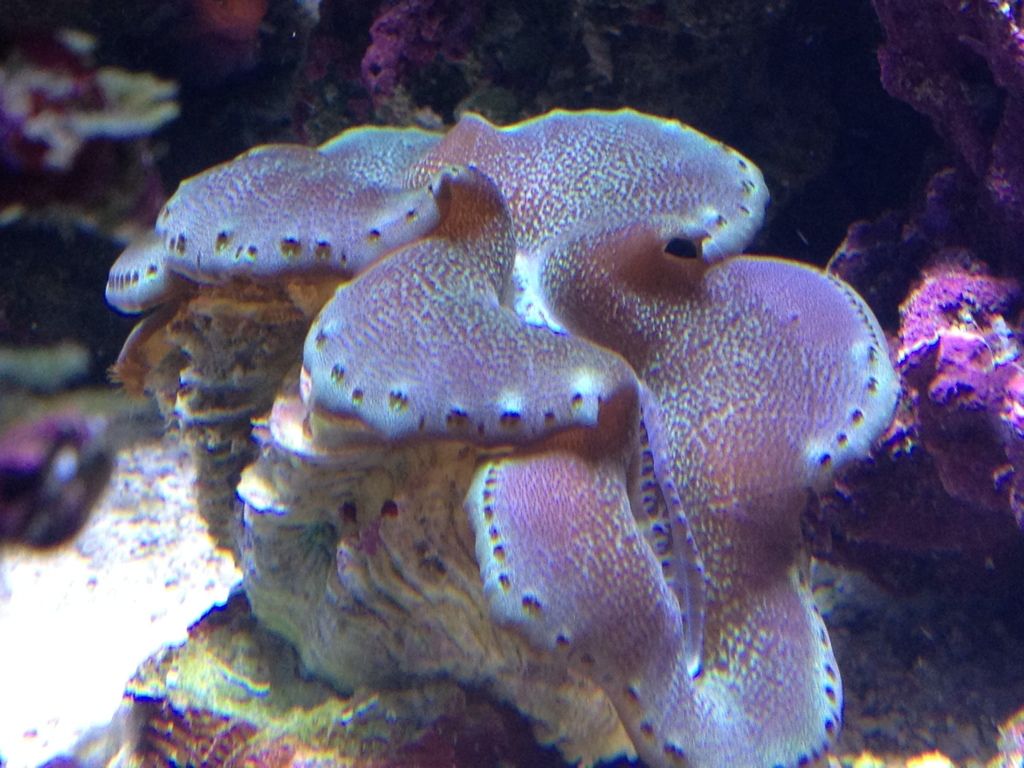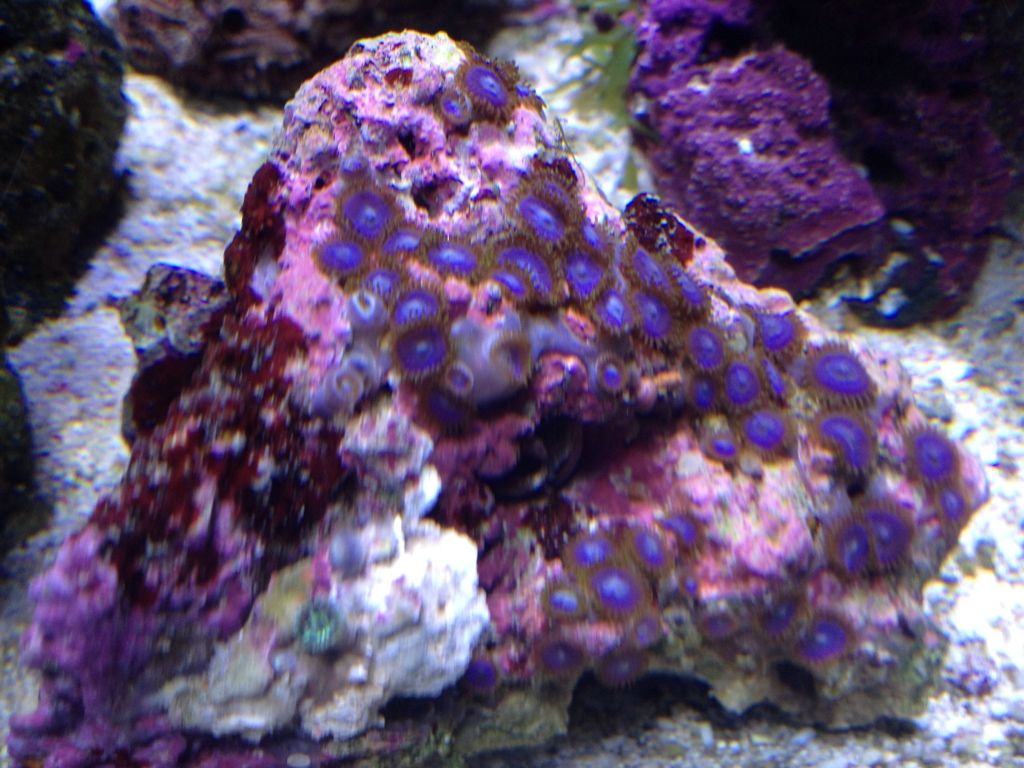 Sunday we visited all the stores in the gold coast we could, and went back to Reef Secrets. REEF SECRETS IS OUR FAVORITE AQUARIUM STORE ON THE GOLD COAST!
Hot guys, hot display, it was a brilliant day and everything got rebagged for the flight home. We ended up bringing back 3 boxes completely crammed full of fish, corals, and inverts. Security looked at us a bit odd.
I was able to secure a new chiller for this tank, and since I would need to run an external pump for this. I decided to do it BIG.
I have plans to run a single 10k rated pump for the chiller, 2 reactors, return, and a closed loop system. I've always wanted a more powerful return to use a nice loc line spraybar to keep powerheads out of the tank, and now I shall. I've designed for 3 spraybars, to allow strong flow, but very spread out for through coverage, and I will be adding a SWCD for random wave action. One spraybar will cover the entire back of the tank as return from the chiller, one from the left covering the entire topline there, and one from the right set up the same way, through the SWCD covering the entire tank with flow from all over and random directions. My main concern is the pump being too strong, so I have designed the manifold to have an 'extra' valve which will be directly output to the return chamber in the back of the tank. Since it's only partially build I only have some photos of the pvc bits put together for visual.
It will be attached to the side of the stand, and plumbing run under the display and up the back area of the tank into there respectable devices. In which order I haven't decided yet. I still need to purchase a few odd bits and ends, and some tubing. I would like to use flexible pvc, or spa-flex, and will have to find some in 1", or 25mm size, that will fit into pvc fittings. I need 2 unions to attach to the pump and some flexible tubing that I can use with metal hose clams to attach to the SWCD, which the flexible pvc, or spa-flex might fit the bill for, but uncertain until I get the pump and SWCD. I also need a few screw on barb fittings in 1" size. Then I'll need all the metal clamps to be used for external use under the tank. I've ordered 2 more loc-line spraybars and fittings so those will arrive from the US whenever they get here, week or two, and I'll order the pump and SWCD then as well. Either a much greatness to come, or a big flood in the bedroom! Keep tuned in!
Can't wait to test it all out!