Congratulations to smidy69 winner of the July Tank of the Future
1) How Long have you been in the hobby ?
I had a Fowlr about 10years ago with a couple of unsuccessful corals due to cutting costs and below average equipment and before that bred african cichids and had freshwater fish and it all started from a turtle which was my first marine animal that got me into aquariums back in 1997 roughly. But been out of fishtanks for about 7years prior to this build.
2a) What size is your winning tank, dimensions and litres?
1500mm x 600mm x 700mm high Peninsula style, approx. 750ltrs including sump and fuge.
2b) Any reasons for that size tank?
Bought a stand with a secondhand tank and progressed from there
2c) How long has this tank been setup?
Water in tank since February 2015.
3a) What is your goal for this tank?
To maintain a colourful living centrepeice for the area it is positioned and learn so much about what makes it all tick.

3b) Have you researched anything specifically to reach this goal?
Like everyone else huge amounts, nothing specific just new things all the time for what is going on at that point in time with the tank or added item.
3c) BIggest lesson you've learnt whilst planning/setting up this tank?
Dont impulse buy, plan, plan, plan. The 5 P's -prior planning prevents pisspoor performance.
3d) Any tips you'd like to pass on for others to learn from?
The 5 P's lol
Also not everyone has the same answer for advice to your question, take and apply what you want but listen to everyones experience.
4) Do you have a sump and/or refugium? If so, what size?
1000mm x 450mm x 450mm Sump and seperate fuge 450mm x 450mm x 300mm high
5) Filtration eg. amount of live rock, sand bed or bare bottom, mechanical filtration etc?
75kg roughly of live rock(5kg live, 20kg base), 15kg of fiji pink aragonite coral sand1-3mm, skimmer, UV sterilizer,Ozone and also run a 2 little fishes 550 phosban reactor.
6) Do you have a skimmer? If so, what?
Yes, Marine Sources RDC1800ltr twin red devil feed pumps.
7) Water flow/movement (power heads etc)?
2 x Ecotech MP40WES and about 3500ltr/hr turnover through return pumps.
8) Lighting, type and times?
2 x Ecotech Radion Gen3 Pros running 12.5 hours of light a day steady sunrise to peak of 70% for 3 hours and fast drop off at night, noticing a light gap in between radions as only 2 over a 5ft tank, plan to probly run another in due course when the budget says so.
9) Other equipment such as auto top-off, Ca reactor etc?
Tunze auto top off, Reeflink for ecotech gear, Haliea 5ooa chiller, Kamoer 4 channel dosing pump for alk mag and cal and plan to use 4th line for dosing Continuum microblast for regular feeds for sps throughout night, 2 Little Fishes 550 phosban reactor with Tropic Marin elmi-phos media, 55w Uv sterilizer, 50mg/hr ozone generator running at about half pace feeding into one of the skimmer air inlets.
10) Water parameter targets?
Continous stable parameters- cal 410-450ppm, alk 8dkh, mag 1400, ph 8.1, Po4 .oo and No3 < 2 but not completely undetectable, about to start testing for strontium and dose that accordingly to once i get my head around it.
11) Additives and conditioners (kalk, phosphate removers etc.)
Randys Recipe for Cal, Alk and Mag and Tropic Marin Elmi-phos in phosban reactor.
12) Fish stock
Guna be slammed by the fish police
but I love my variety and plan to ensure equipment is up to speed to handle the bioload, and already have ideas for renos on house for huge tank
but long way off.
2 Bar Rabbitfish
medium Naso(lipstick) Tang
Cleaner wrasse
small Blue Tang
Flame Angel
Black Onyx Percula clown pair
Royal Dottyback
Filament Wrasse
Melanarus Wrasse
Scotts Wrasse
3 x Dispar Anthias
Gold Head Sleeper Goby
Firegoby
Lawnmower Blenny
Plan to add a Long Nose Butterfly as I do love them and regretfully lost one to whitespot a few months back but have conquered that now and everyone doing great now, a Powder Blue Tang which is a past favourite and would also like a Purple Tang......
.
13) Coral stock.
Numerous Zoa and Morph colours, Hammers, Frogspawns, Torches, Lobos, Acans, Pavona, Trachy, Blasto, Suncoral, Pagoda, Sinularia, Blue Carnation Leather, Mushie Leather, Duncan, Acros, Birdsnest, Star polyps, Fungia, Jardinia aaaannd thats pretty much it. Lots of the acro and zoas are only frags but coming along nicely. Also a large extreme light pig Crispa Anenome which provides a mansion of a home for my clowns and is pissing me and a few sps off with his glutten for light.
14) Other Inverts.
Coral Banded Shrimp, 2 x Starfish, 4 x Nassarius, 2 x Strombus, Turbos, 2 x Trochus, Large Cucumber couple of random hitch hiker crabs that so far, touch wood, haven't caused any greif
.
15) Maintenance such as water changes, cleaning etc?
standard glass cleaning every coupla days, was doing regular water changes between 20-30% weekly or fortnightly once cycle had done its thing and was doing 30-40% water changes during cycling and for the couple weeks after. I have gotten to a point where I want to test the biological system itself to see how far I can push it without drama of course and am up to 4 weeks without a water change and Po4 is back to .00 on Hannah after it hit .02 in second week and nitrate is slowly climbing at 2.5ppm(salifert) last test 5 days ago and was at 1-2ppm a week before that. I plan to do one in the next week just to revitalize everything and see how I go again maybe take it to 5 or 6 weeks next time.
16) Acknowledgements, thank-you's and any other comments you would like to make that don't apply elsewhere.
Thanks to those that take the time of day to answer my questions and provide feedback, it is valuable info for those learning and I had a clue to start with this time just needed back up advice and guidance for a few areas. Have to say thanks to my wife for letting me dump half our bank account on this addiction of a hobby I now have she truly is an
!!!
I think MASA and RTAW is a great place to learn about all things reef and the advice and knowledge shared I hope continues and gains popularity more and more.
Couple shots of set up as is now.....
Couple shots of set up as is now.....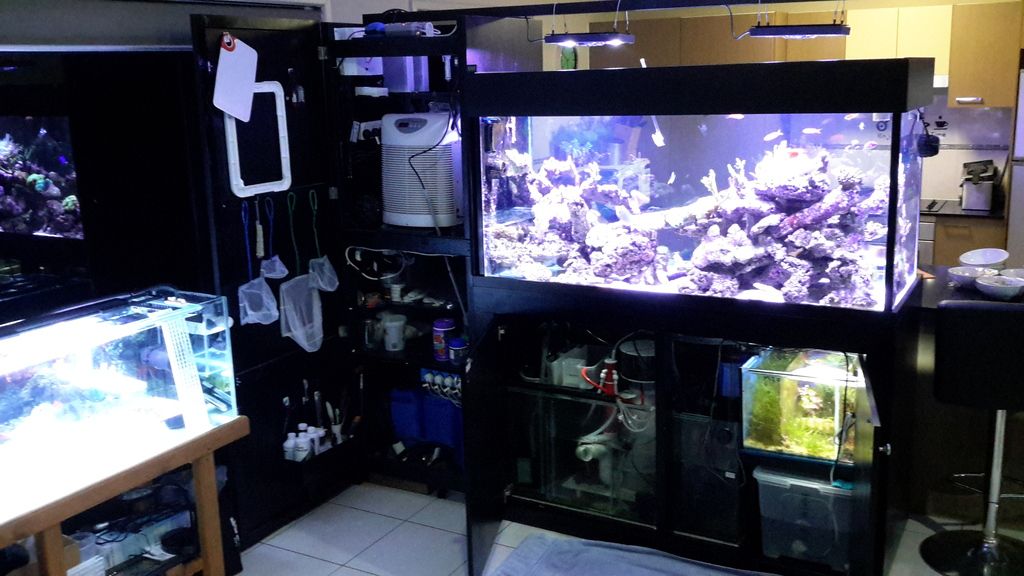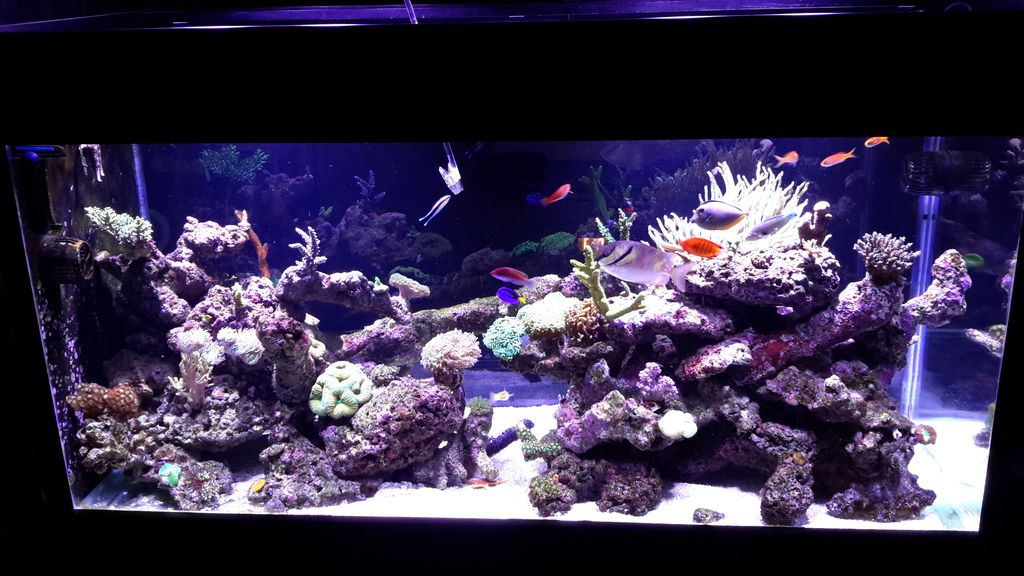 Kitchen view side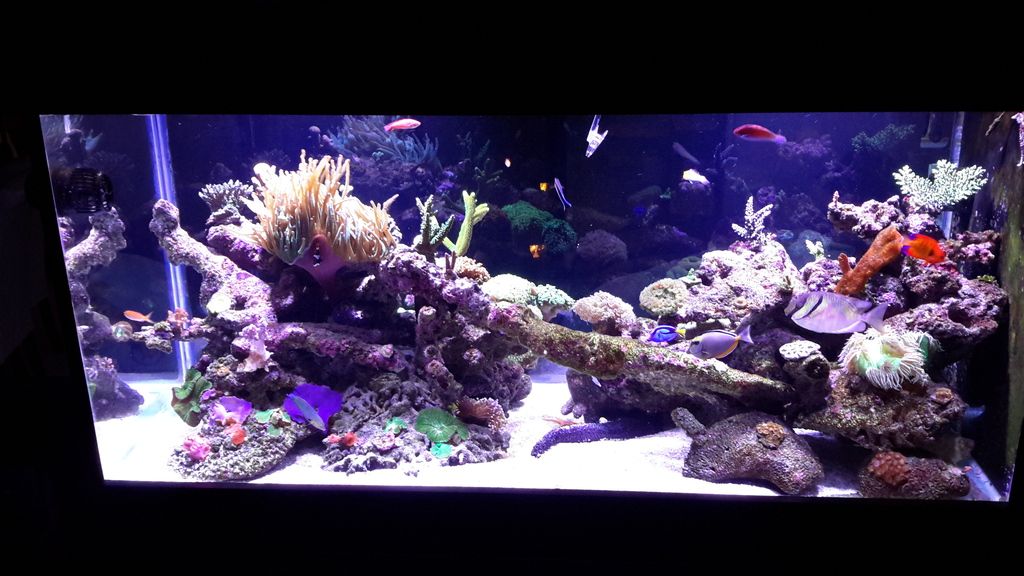 [/quote]
TANK JOURNAL
http://www.masa.asn.au/phpBB3/viewtopic ... 8&t=261760