The winner of the
October
2013
TOTM
competition is:
some_one
with his amazing SPS dominated reef tank !
Prizes kindly donated by:
Aquablue Distribution

Brett has won:
Ocean Nutrition Foods Prize Pack
You can find out more about this tank in
Brett's Tank Journal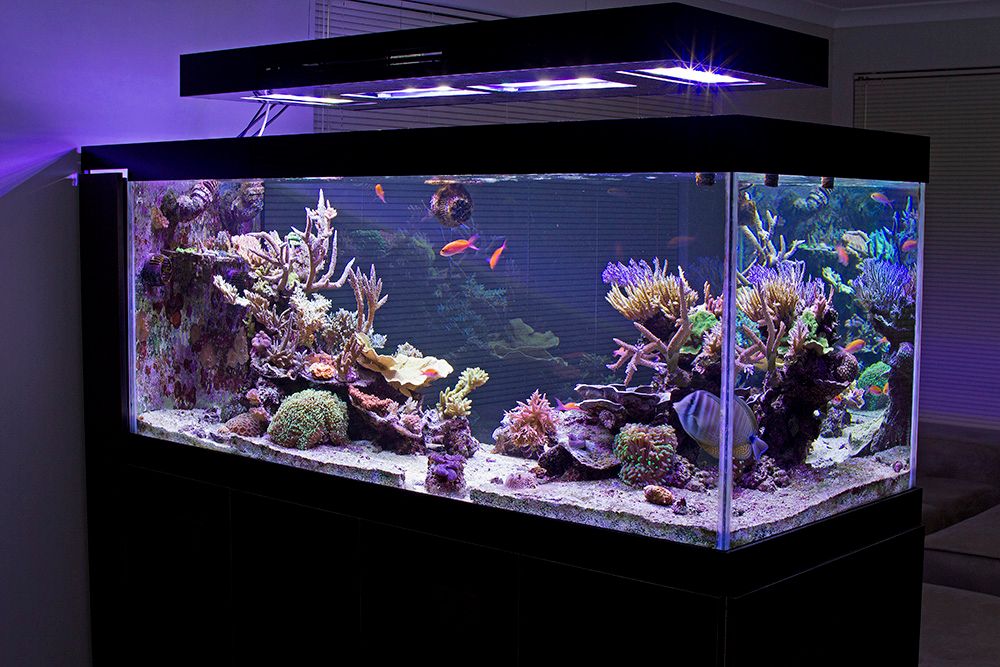 1) How Long have you been in the hobby ?
Approximately 5 years
2a) What size is your winning tank, dimensions and litres?
1700 x 750 x 750 deep (5.5 x 2.5 x 2.5) resting on a DIY steel frame clad in Formica laminate panels. Total system capacity is 850L
2b) Any reasons for that size tank?
Its purpose was to be a room divider. For it to fulfil its purpose I had the following criteria: 1) It needed to be higher than normal 2ft tanks to be able to clearly see through. 2) The length was important to not stick into the room too much, but too short and it would look out of place.
2c) How long has this tank been setup?
2 years & 3 months.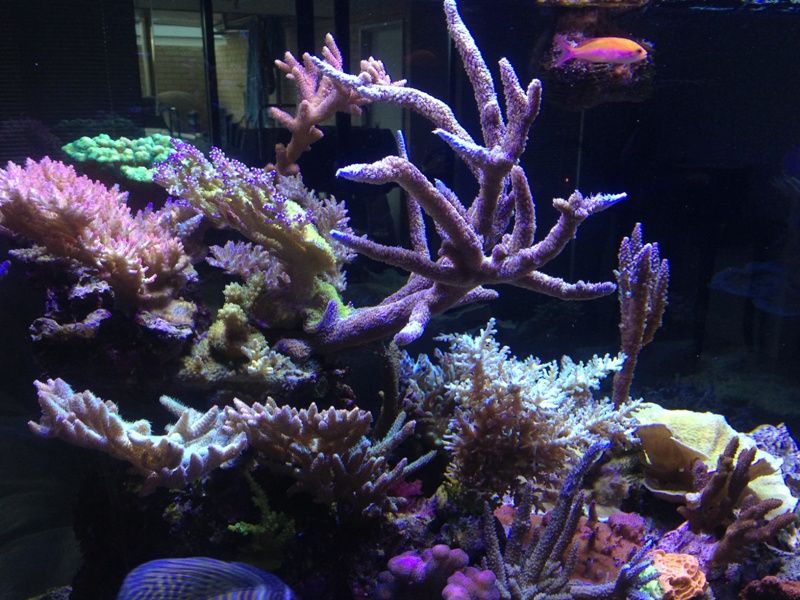 3a) What is your goal for this tank?
The original goal, which still continues is to have a healthy thriving system that looks good in the home as it is out on display in the main part of the house (pressure is on!!). Also to provide me the opportunity of an escape from my busy life and something which keeps me occupied and my brain ticking over coupled with an excuse for my DIY side to come through
3b) Have you researched anything specifically to reach this goal?
Plenty of research (both online & books) and also a lot of conversations & mentoring from fellow MASWA members.
3c) BIggest lesson you've learnt whilst planning/setting up this tank?
Biggest lesson which I have learnt with my current setup is to take your time, there is no rush. This applies to the entire system, both pre planning of the setup and also once it is full of water.
3d) Any tips you'd like to pass on for others to learn from?
Join your local MASx group or find some local reefers and get chatting. You can read and read, but there is no substitute for seeing first hand different approaches to the same problem. There is many different ways to setup a tank and run a tank and plenty of products to pour in. Seeing the effects first hand and talking to people about it is priceless in my opinion.
4) Do you have a sump and/or refugium? If so, what size?
Just finished plumbing in my custom designed & fabricated acrylic sump. Dimensions 1000 x 600 x 400 high which incorporates a dedicated macro refugium.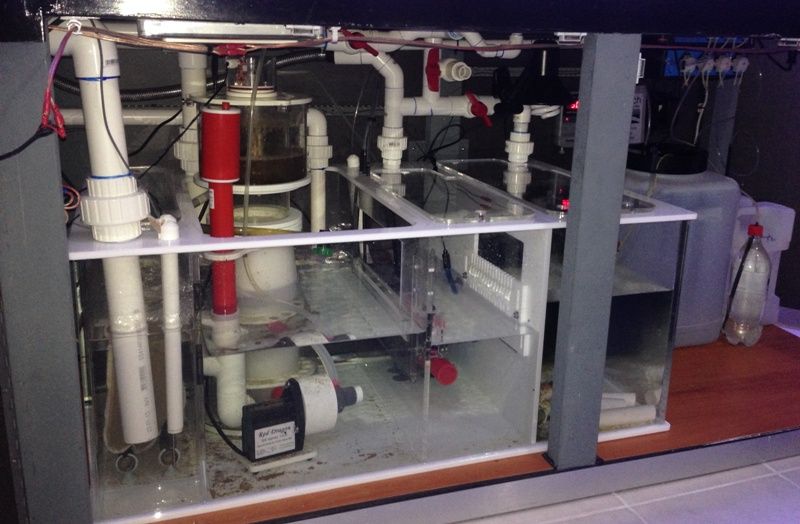 5) Filtration eg. amount of live rock, sand bed or bare bottom, mechanical filtration etc?
There is 50kg of live rock on a substrate of CaribSea Arag-Alive Special Grade. Mechanical filtration has only been recently introduced with the new sump, but is working exceptionally well. This consists of 4 x 200 micron nylon filter socks which are changed and cleaned frequently.
6) Do you have a skimmer? If so, what?
Vertex Alpha 200 with Vectra neck cleaner
7) Water flow/movement (power heads etc)?
2 x Vortech MP40w ES (one on 100% other on reef crest mode)
1 x Tunze Turbelle 6085 hung from the tank bracing, positioned half way down the tank.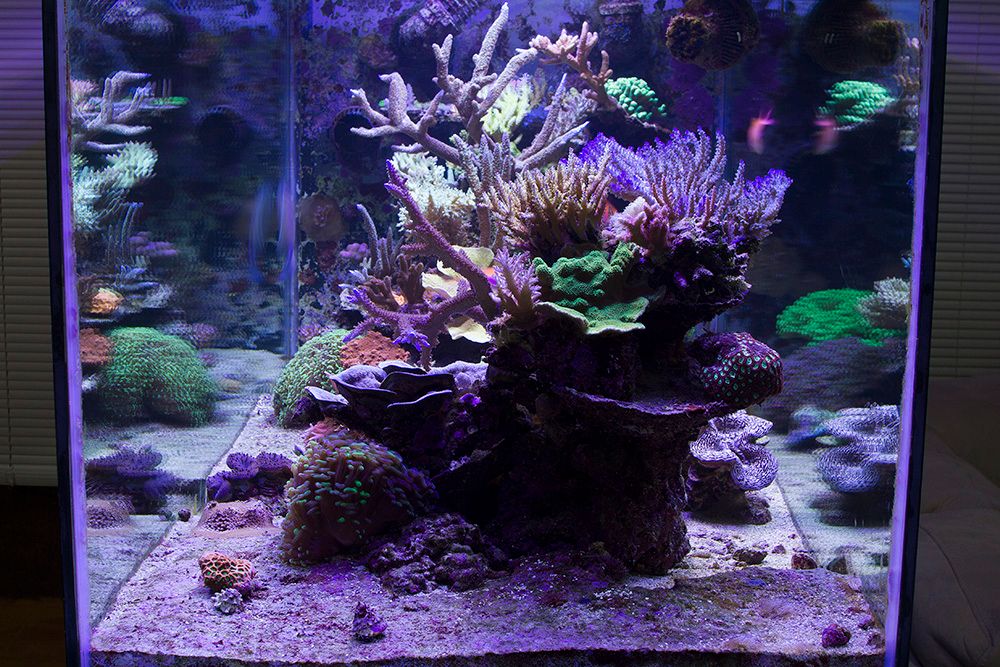 8) Lighting, type and times?
2 x Pacific Sun Black python 200W LED lights - 1st gen lights - White & royal blue.
2 x Pacific Sun Trition R2 170W LED full spectum lights - 10 different LEDs on 8 Channels - Cool White, Neutral White, 450nm, 465nm, 475nm, Orange 610nm, Green 525nm, Red 630nm UV-A 400 & 420nm.
I utilise the sunrise and sunset function of the lights. I provide a 90 minute sunrise and sunset. Sunrise starts at 9:00 and sunset starts at 7:30 each night.
All 4 LED units are within a custom aluminium frame, clad in black acrylic which I have suspended from the ceiling with stainless steel wires.
9) Other equipment such as auto top-off, Ca reactor etc?
Top off is taken care of with a ATO and a 30L reservior in the cabinet. To keep the parameters stable i use Kamoer dosing pumps to dose Randys 2 part (3 parts) mix. The only other piece of 'optional' equipment that i am using at the moment is an Ozotech Poseidon 200 Ozone Generator with ORP controller. The unit is controllable and i am periodically providing a very small dose directly to the skimmer pump.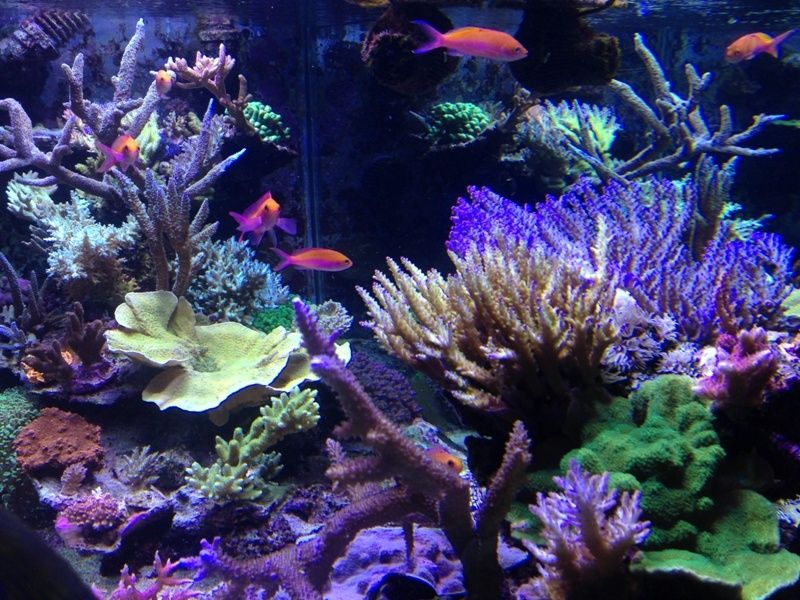 10) Water parameter targets?
Targets are and have always been NSW levels. Because i have a fairly large water change regime, it is too difficult to try and provide anything else.
Salinity/Specific Gravity 1.0267
Temperature - 25-28 ºC (winter-summer)
Alkalinity - 2.6 meq/L
Calcium - 410-420 mg/L
Magnesium - 1300 range mg/L
Phosphates - 0.00-0.03 on Hanna Checker.
Nitrates - 0 ppm
11) Additives and conditioners (kalk, phosphate removers etc.)
For a long time I used to run a TLF reactor with a small amount of RowaPhos changed bi-monthly to reduce phosphates. This was removed a couple of months ago as there was no longer a phosphate issue and I didn't see it providing anything positive to the system or corals.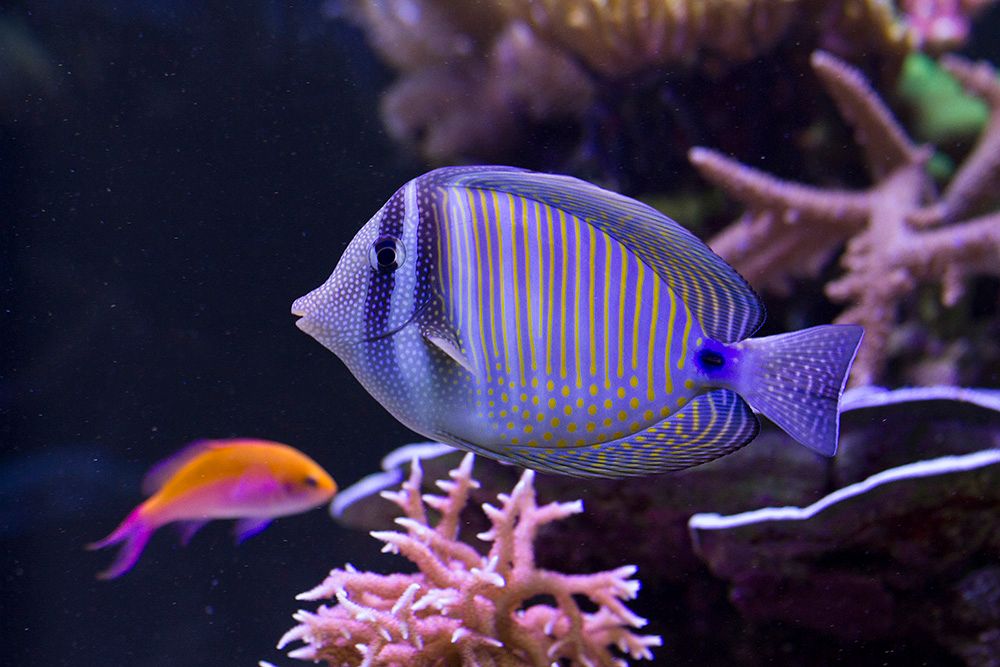 12) Fish stock
8 x Bicolor Anthias
Pseudanthias bicolor
1 x Sailfin Tang
Zebrasoma desjardini
13) Coral stock.
Stock is predominately SPS consisting of larger colonies, and many smaller colonies which have been grown out frags. Range consists of Acro, Monti, Milli, Pocci etc.
Also have a small variety of other corals such as Acans, Hammer & one colony of Zoos which were the very first addition to the tank.
14) Other Inverts.
1 x Redline cleaner shrimp
A couple of Strombus snails
1 x Maxima clam
1 x Squamosa clam
Turbo and Trochus snails.
15) Maintenance such as water changes, cleaning etc?
500L (58%) flow through water change with filtered NSW every fortnight. During the water change i take the opportunity to undertake any other maintenance or cleaning required. Glass is cleaned every week or 2 or when people come over.
16) Acknowledgements, thank-you's and any other comments you would like to make that don't apply elsewhere.
Big thanks to MASA, Sponsors and the RTAW forums for providing the platform to host the wealth of information and also the facility to communicate with other reefers. A big pat on the back needs to go to MASWA and its members. Without their advice, comments and mentoring along the way this system would have never grown into what it is now.
There is and has been so many amazing tanks, so to get TOTM is a great honour. Hopefully I can continue to develop my system and keep learning, having fun and fragging
in the years to come.