The winner of the
February
2013
TOTM
competition is:
Rodneyri
with his amazing frag grown SPS dominated reef tank !
Prizes kindly donated by:
Aquablue Distribution

Rod has won:
Ocean Nutrition Foods Prize Pack
You can find out more about this tank in
Rods Tank Journal
1) How Long have you been in the hobby
I started in this hobby when I was about 10 years old, starting with gold fish then quickly moving to tropical and Discus tanks. My first marine tank was back in 94 and have kept reefs ever since
2a) What size is your winning tank, dimensions and litres?
1400x750x550 approx 525l display
2b) Any reasons for that size tank?
Fits my place and the aesthetics I wanted, the extra depth is a must for any tank I would consider moving forward, gives a great perspective
2c) How long has this tank been setup?
Since October 2011
3) Anything you want to say about your stand?
Went for a different approach to the norm here, the stand is 2400 long with the tank sitting on the left side, gives great space to do water tests and general maintenance plus looks nice with the partially covered stand. Its made from 50mm steel clad in high gloss polyeurethane to match the furniture in my place
4) Do you have a sump and/or refugium? If so, what size?
Yes I run a sump to house my equipment, its 90x40x50. No fuge or DSB to maintain, I like to keep the sump as clean as the display
5) Filtration eg. amount of live rock, sand bed or bare bottom, mechanical filtration etc?
Simple setup with a big skimmer run wet, running carbon and rowaphos in TLF reactors. The display has a shallow sandbed with Caribsea Special Grade sand. Minimal rockwork not sure on how much id estimate 60kg
6) Do you have a skimmer? If so, what?
Yes of course! Bubble Pioneer with ATB pump
7) Water flow/movement (power heads etc)?
3x Tunze 6105 controlled by profilux
8) Lighting, type and times?
This tank has been lit by Vertex Illumina, ATI Powermodule but most recently GHL Mitras (5 months) And now waiting on the ATI LED Hybrid to play with
9) Other equipment such as auto top-off, Ca reactor etc?
Tunze ATO, Turbo Calcium Reactor, GHL Profilux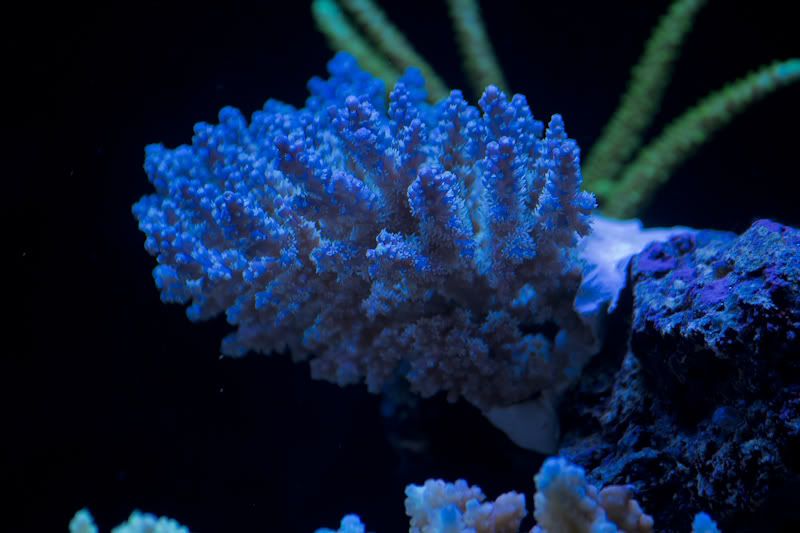 10) Water parameters?
PO4 - 0.01 (Hanna)
Alk - 7.5
Cal - 420
11) Additives and conditioners (kalk, phosphate removers etc.)
Rowaphos replaced every 3 months
12) Fish stock
2x Yellow tangs
1x Blue tang
6x various Anthias
1x Tiger blenny
13) Coral stock.
SPS Acro and Zoos
14) Other Inverts.
Cleaner and perpermint shrimp
15) Maintenance such as water changes, cleaning etc?
Water change every week without fail, changing 10%. I stir my sandbed every week and replace carbon fortnightly
16) Acknowledgements and any other comments you would like to make that don't apply elsewhere.
Thanks to everyone thats helped and given advice over the years, shout outs go to Dave @ Extreme Reef, my bro RyanRid, Muzz, Edi and Charlie for helping out when ive needed to move tanks, aquascape or other tank stuff thanks guys!