Hi everyone,
This post is for people with a Gen 1 XR30 considering an upgrade. the units are considered upgradeable from each generation so i took the plunge and upgraded to a GEN 3 Pro
Recently i borrowed the MASS PAR meter and tested the PAR my old Gen 1 was putting out after 3.5 years of solid running. I'm keeping SPS at up to 15 inches deep, which is well, pretty deep for SPS and have noticed of late pretty slow growth. low and behold at Max intensity:
Gen 1 XR30 ( TIR lens )
direct below @ 12 inches: 250 PAR
direct below @ 15 inches: 200 PAR
offset 2 inches to left of unit @ 12 inches: 180 PAR
I think the most optimistic of us would say those are pretty low for SPS so it was time to do something.
Should mention this is about an average as the PAR meter bounces around a bit, to me it looks like water movement on the surface stratifies the light giving a variable number. Now its impossible for me to tell what a new Gen 1 puts out and if I've dropped some PAR over the years, but since anyone with a GEN 1 now would be running it for as long they are a good yard stick. Another factor for PAR decrease can be yellowing of the water, so for reference i run activated carbon very heavily and change out once a month so those PAR numbers can be considered with that in mind.
Upgrade process:
- sent packaged XR30 up to Aqua Blue in Brisbane Monday, received Tuesday
- Thursday Aqua blue had called me, unit finished and payment made
- Received back in Sydney on Friday by midday.
nice smooth transaction, its about 350 odd for the upgrade plus i went for the new fan cover for an extra 32 dollars. Might seem a lot but its less than half the price of a new unit.
Gen 3 XR30 Pro results at MAX:
Gen 3 XR30 Pro
direct below @ 12 inches: 380 PAR
direct below @ 15 inches: 340 PAR
offset 2 inches to left of unit @ 12 inches: 280 PAR
a couple of observations. these measurements are reasonably deep, at that depth the offset has a great effect on the PAR, something to note with Radions. I've picked up about 100 to 150 PAR with the upgrade. Also to the naked eye the light looks better, they've added UV, yellow and indigo. total wattage is up which correlates to the increase PAR at max intensity. I've boosted my hours at max as well for my particular setup.
also note is just a single unit test, in other tests Ive seen PAR seriously scales up the more units you use.
note when putting the unit back online i had to delete the Gen 1 from ecosmart live and re-install this as a new unit. as the LED pucks are now different i didn't try and download an old graph, I just made a new one.
new fan cover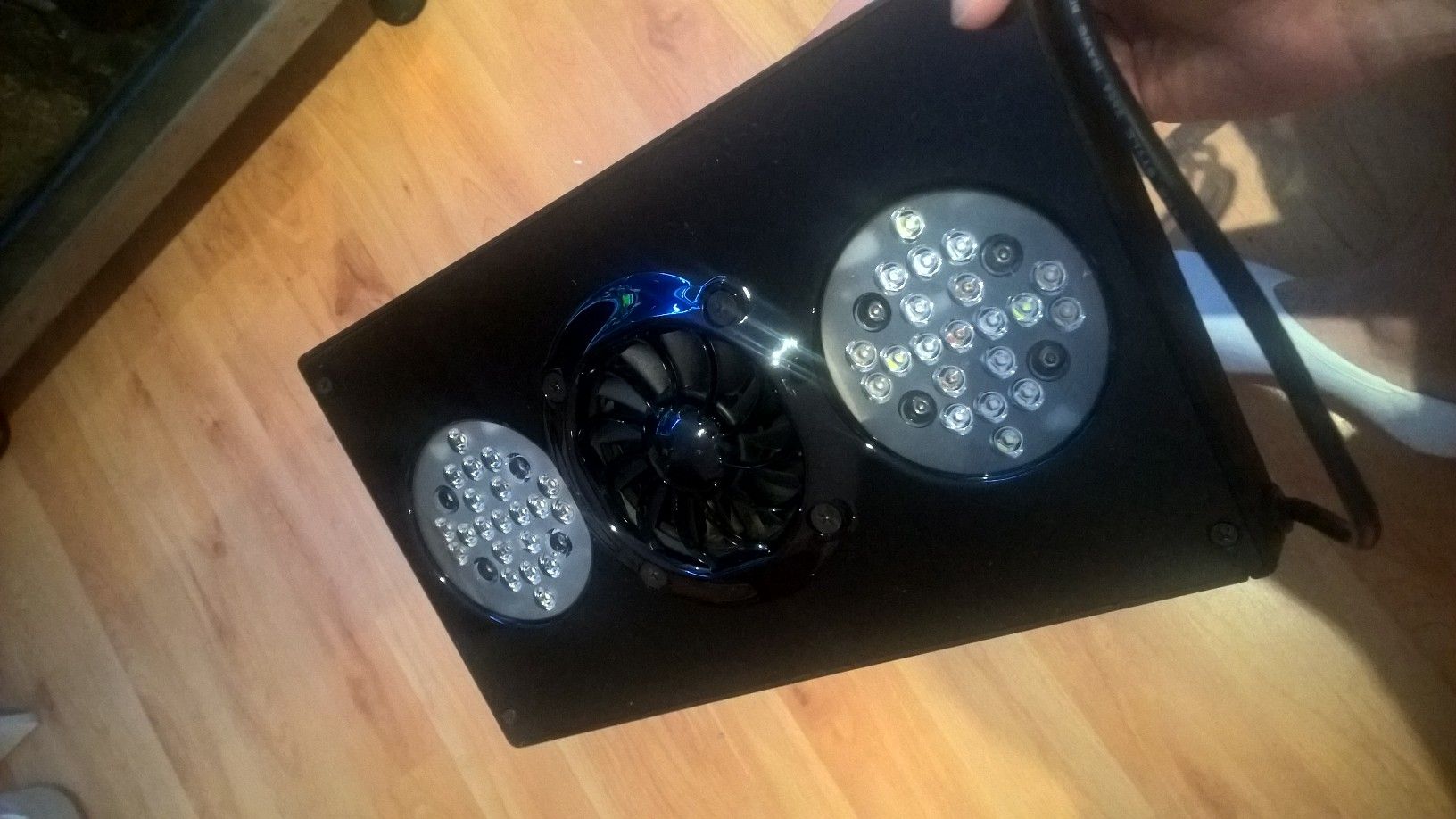 note the top does not get replaced, it uses the old top with the laser etched buttons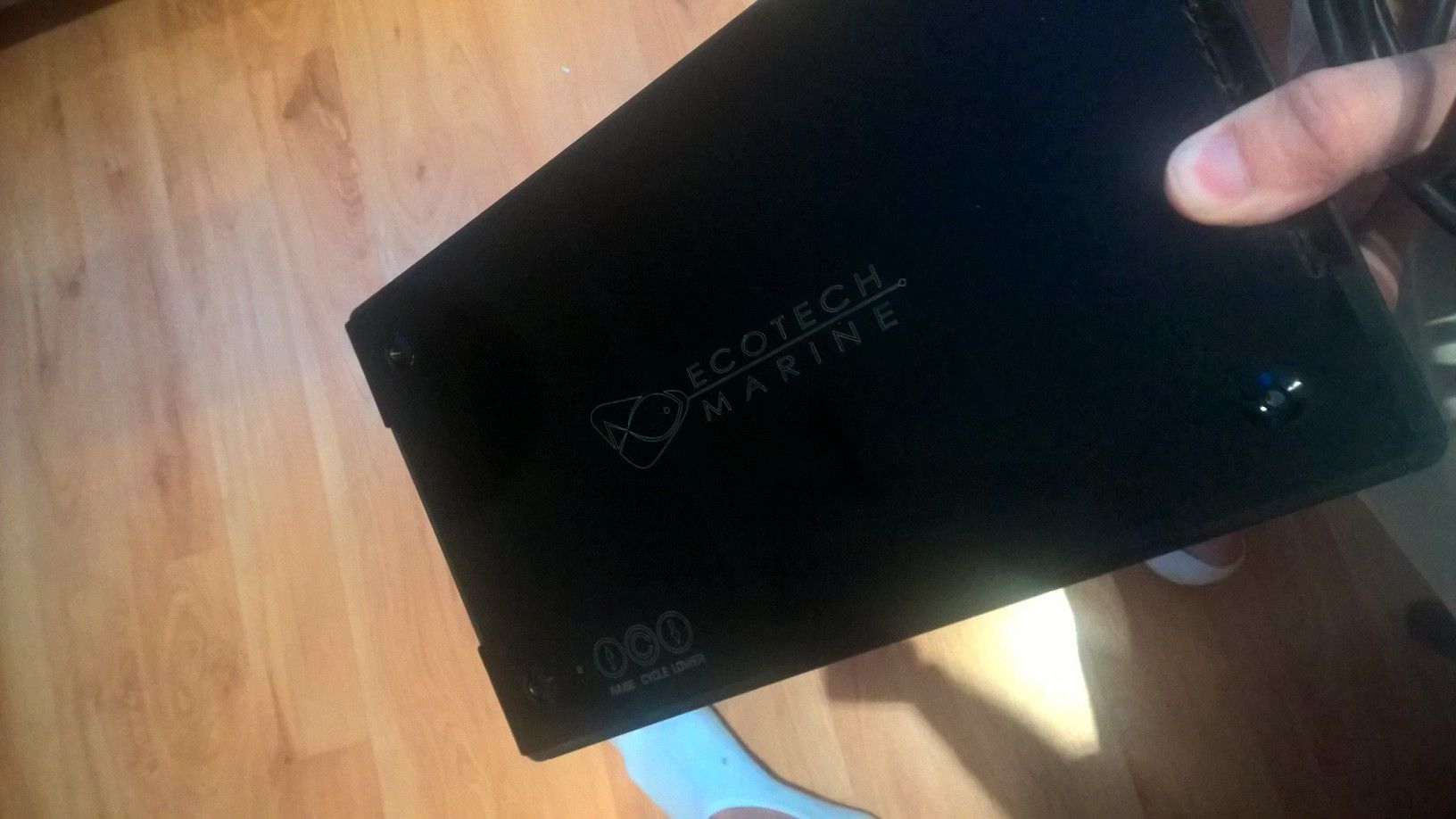 testing my frags at 15 inches deep. important to aim the sensor as best you can at the light source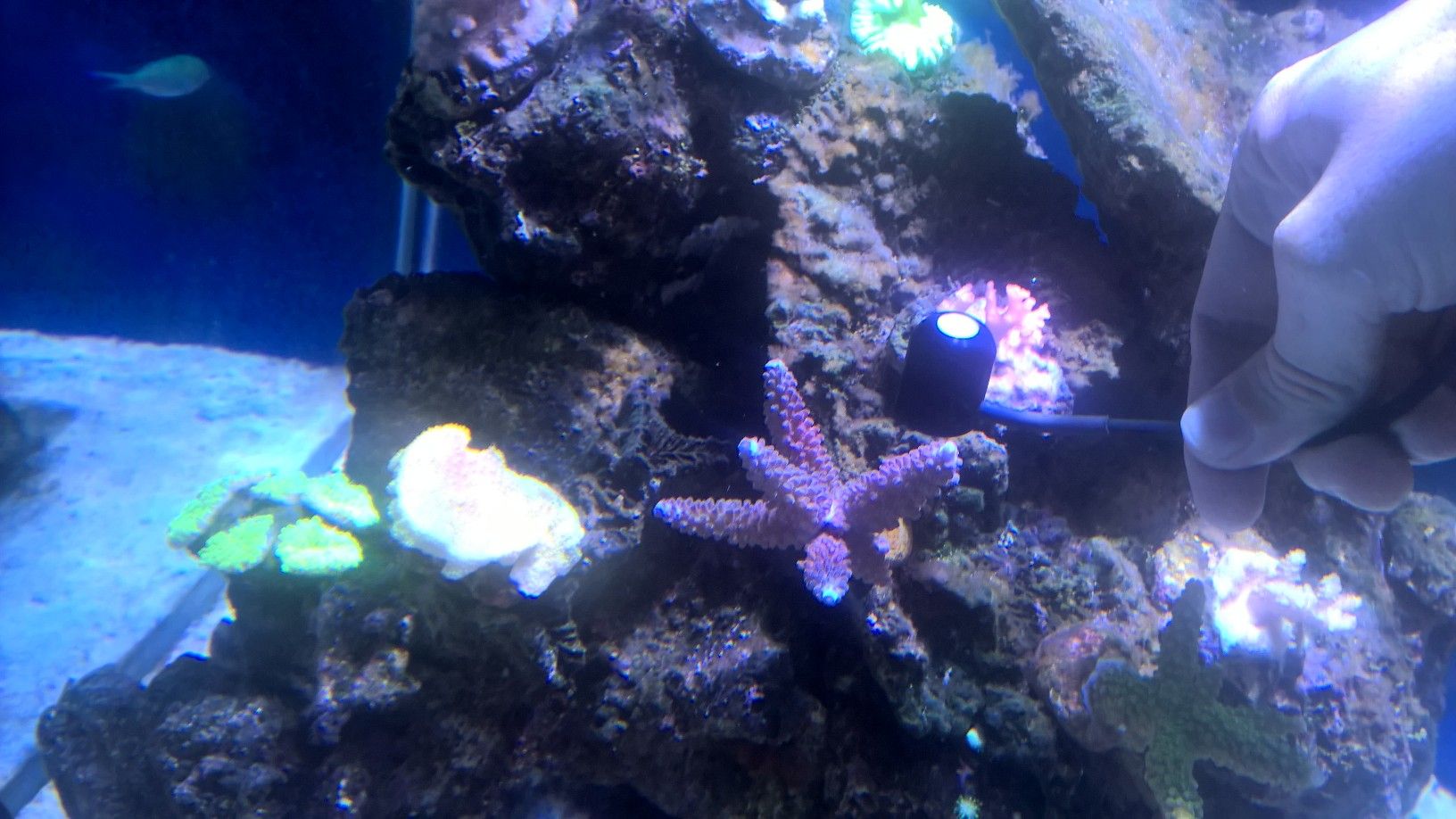 MASS PAR meter ( thanks for the loan ) under new Gen 3 at about 12 inches