Introduction:
I've previously kept mainly planted freshwater aquariums, but several years ago I did have a nano tank that housed a pair of clowns and a H. crispa. I had the anemone for nine months before selling it off before the temperature got to high.
System Type:
Mixed reef
PICO System:
PICO Tank:
22 x 22 x 36cm
PICO Volume:
17 liters
PICO Lighting:
BoostLED Par30 with 3x royal blues, 1x neutral white and 1x warm white
Start up date:
December 14th
Support systems:
small chiller rated for up to 30 liters
System Water:
Natural salt water
Display Water circulation:
HOB with 500l/H flow
Filtration:
Not yet but I will be adding filter wool
Evaporation Top Up:
Manual
Water Changes:
50% once a week and 100% once a month
Chemical Support:
None, but I may add carbon
Calcium and Alkalinity Addition:
Water changes only
Other Chemical Maintenance:
Water changes only
Current Water Chemistry:
If applicable
Nitrates:
1
Phosphates:
Alkalinity:
Calcium:
Salinity / Specific Gravity:
1.025
Magnesuim:
Livestock:
Yellow tail damsel
Corals:
2 acros, a hammer, various acans, a scolly, Xenia, blasto and a toad stool.
Invertebrates and or CUC
maxi mini carpet anemone, planning on adding 5 sexy shrimp. Nerite snails and a stromb for CUC.
Feeding Regime:
Coral food:
The scolly gets fed a few pellets three times a weed
Method:
I use tweezers to target feed the coral
Budget
Equipment expenses
The only things that were purchased for this tank was the chiller ($110), the light ($50) and the light stand ($22). Totaling $188.
Images:
Chiller:
14th of December:
19th of December
23rd of December, added the par30
26th of December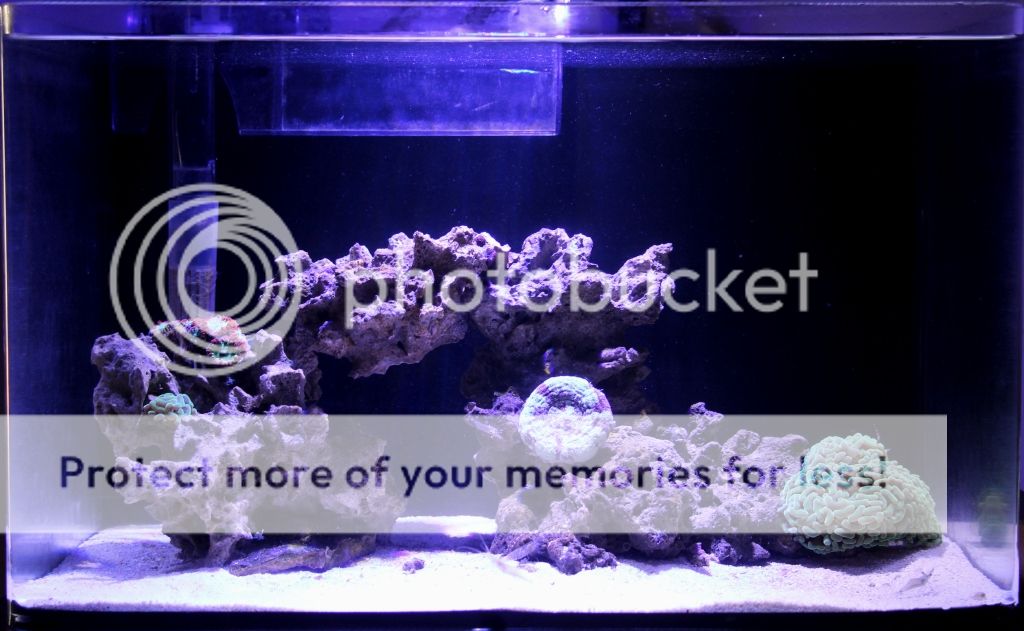 2nd of January
4th of January
[image]="http://s869.photobucket.com/user/mthom211/media/IMG_3965_zpse3ab1260.jpg.html%5D"]http://s869.photobucket.com/user/mthom211/media/IMG_3965_zpse3ab1260.jpg.html][/image]