Introduction:
I recently threw a bit of a tantrum after loosing one of my percula clowns and shut down my nano tank, because it was getting too hard to manage and next year I want to go "big" e.g. something with a sump!
Originally this was going to be a 20cm cube, but I wanted to make the most of the size limit and went to a 27cm cube instead.
System Type:
It's going to be a little mixed reef; but I want the focus to be mostly on macro algaes, acans and zoas. There will be a leather or two, and one sun coral and maybe a leather. I've managed to score a few bits of macro from a LFS which I am going to "plant" and see how they go.
PICO System:
Originally planned a 20cm tank I had lying around but the power went out this weekend killing a lot of my inverts and my clownfish, and I took the opportunity to restart with a 27cm cube on the 25th November.
Original tank: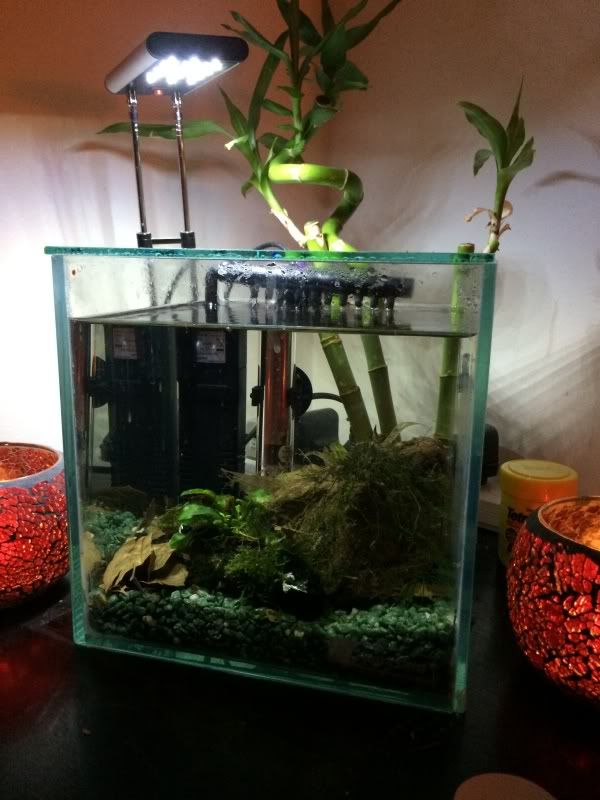 PICO Tank:

Display tank specifications
27x27x27cm cube from Deer Park aquarium, with cover glass.
PICO Volume:

Total tank water declared volume.
I normally fill it to about 1-2cm below the top so I worked it out to be roughly 19L, not factoring in the rock space.
PICO Lighting:

Lighting specifications.
The t5 light I have on it now isn't strong enough and has no blue. I spent $10 on a Led light from eBay with blue and white light settings so I'll see how that goes- and go DIY if I need to with 3 or 4 white CREE LEDs and a couple of blues...
Start up date:
13th November 2013 for original tank, restarted 25th November in bigger cube.
Support systems:
System Water:
Natural, I think. Though ASW is an option for next year given the tiny volume.
Display Water circulation:
A tiny little Aquaone Mini pump, which currently has a sponge filter. Should be adequate for the planted reef tank, but mainly there to create some flow. Plus its silent.
Filtration:

Are you running any filtration equipment?
Macro algae should be the primary filtration of this system.
Evaporation Top Up:
Manual, plus frequent water changes. Plus has a cover glass to reduce evaporation and as I'm aiming for algae growth I will use tap water to increase the phosphorus availiablilty.
Water Changes:
1-2 times a week. Min 50% changes (10L).
Chemical Support:
Calcium and Alkalinity Addition:
Frequent changes of water. Plus I have some Reef Buffer, Reef Calc and an Alkalinity supplement if I need to use them.
Other Chemical Maintenance:

Magnesium, additives etc
I don't think I will need them, but have supplements left over from my nano tank if I need to.
Current Water Chemistry:
I'm transferring a small amount of my existing live rock, plus the substrate and some of the original water so my parameters should be pretty much the same.
Nitrates:
10-20
Phosphates:
Not sure. I want some phosphates so the macro algae grows.
Alkalinity:
10-12dkh
Calcium:
normal 440+
Salinity / Specific Gravity:
Normal- tests with a refractometer
Magnesuim:
not tested.
Livestock:
Fish
Aiming for two small ocellaris clowns in the new year.
Corals:
Small suncoral. Two leathers, ;ots of zoas, lots of acans, cool white fan with white polyps, i will add some morphs if i can, and there's a ric.
Invertebrates and or CUC
Snails and slug type things, plus all the creepies from inside the live rock. Shrimp to be added next year.
Feeding Regime:
Coral food:
Targeted frozen for the sun corals etc, should be ok to add a fair bit of nutrients to this tank as it will be used by the macro algaes.
Feeding Method:
Drop it in?
Budget
Equipment expenses
list the costs of the equipment you have purchased for the Tank
$10 for the LED light and $10 for a cool slimline heater which is coming from eBay. Today (nov 17) I spent $30 buying wood, glue and spray paint for the stand and back board. I have enough to make a hood if I need to later. $25 for the 27cm cube.
Images: