Introduction:
Hi Everyone,
Well after a having to move and giving my setup away I've decided to get another tank and hopefully do things a little better (and smarter) this time. My first tank was a 220L 4ft with a canister filter, no sump, T8's and plenty of headaches. So I'm hoping that by buying good equipment and taking my time this tank will be a lot more enjoyable than the last and more marine friendly.
FTS 17.10.13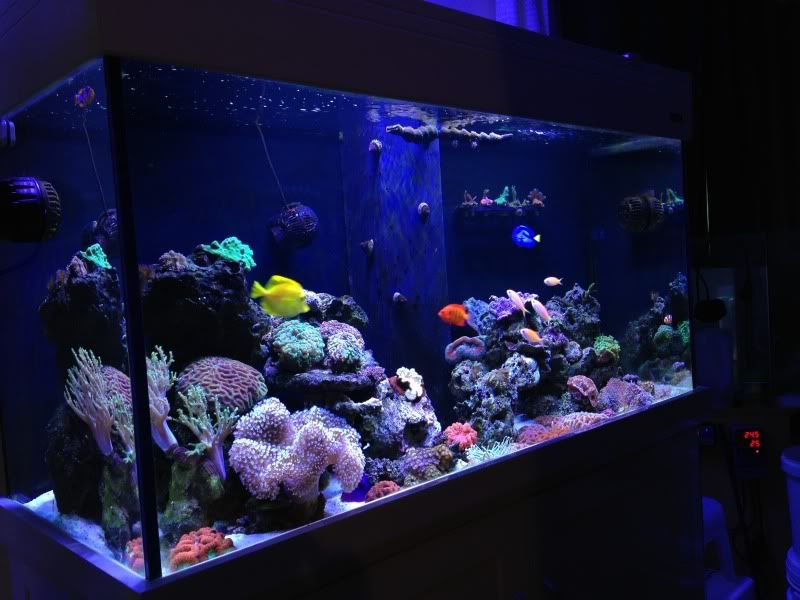 Gotta say a big thanks to Alex, Colin, Kevin and the boys at City Pet & Aquarium at Blacktown for always taking good care of me!!!
System Objectives:
Healthy, happy system that my family, friends and I can enjoy.
System Type:
Mixed reef with fish, soft/LPS and SPS once well established
Display System:
Strike up Date:
September 2012
Display Tank:
White Aquareef 400
Display Lighting:
Pacific Sun - Metis Hyperion R2 (300w)
Stand:
AR400 white polyurethane
Hood:
AR400 White Polyurethane
Sump:
Upgraded 4 Chamber L-1050mm x H-400mm x D-350mm
Refugium:
Live Rock (presently)
Refugium Lighting:
LED
Support systems:
System Water:
ASW
Display Water circulation:
2 x Vortech MP40 WES 1 x Tunze 6025
Return Pump:
Waveline DC-5000
Skimmer:
ATB Elegance 200
Evaporation Top Up:
RO/DI
Tunze Osmolator
Chemical Support:
Calcium Addition:
Seachem Reef Calcium 5ml x2 p/week
Seachem Reef Carbonate 5ml 1x p/week
Seachem Reef Plus vitamin & Amino Acid 5ml 1x p/week
Seachem Reef Iodide 5ml 1x p/week
Seachem Reef Strontium 5ml 1x p/week
Current Water Chemistry:
Nitrates: 0
Phosphates: 8.2
Amonia: 0
Nitrite: 0
Salinity / Specific Gravity: 1.026
Water Temp: 25.5'C
Current Stock List:
Fish:
4 Dispar Anthias
2 Clowns (1 Picasso & 1 Occy)
1 Blue Tang
1 Kole Tang
1 Yellow Tang
1 Flame Angel
1 Decora Goby
1 Fire Goby
1 Green Mandarin
Corals:
4 Hammers
3 Goniopora's
3 Heliofungia's
1 Dallas Frag
1 Birds Nest Frag
1 Tri Colour Acro
1 Red Cynaria
2 Scolly's
Mike