Introduction:
Hi! My name is Sam and I have been keeping reef tanks for about 12 years or so. Last November I started breeding GSM clowns - something I'd been researching for years and always wanted to try. I found the main issue I had was space for grow-out of the juveniles (as they are quite territorial). The larval and meta phases were easy by comparison, but once they were about 4-5 weeks old they would begin madly killing/eating each other. At that time, my grow-out system was a 2ft tank. So after a year of planning, I am building a purpose-built grow-out system in my backyard contained within an air conditioned (and heavily insulated!) shed. This way I can hopefully produce larger batches of GSM and Darwin clowns, and maybe try some other species down the track. I should mention that this is 99% a labour of love, and if it makes any profit that's a bonus - but not my primary focus!
I would love to hear any advice, equipment tips etc that folks have to offer!
System Objectives:
A scaled-down version of a commercial hatchery set-up. Inspired by pics such as this: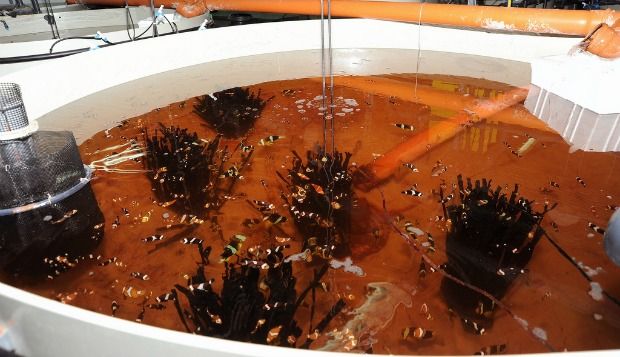 System Type:
Fish-only Grow-out system, with biological and chemical filtration.
Display System:
Strike up Date:
December 2013 - January 2014.
Shed:
Colorbond Shed - 3.8m (L) X 2.2m (W) X 2.4 (H). Due for delivery 6th December! Has 2 x skylight panels (over proposed aquaculture tank sites). Rest of roof and walls will be insulated by my Dad and myself after install.
Display Tank:
Duraplas 1000L Aquaculture Tank - 1 initially, but room for a second if needed. Due for delivery 16th December! Pics as below:

Display Lighting:
Natural sunlight (skylights) + 2 x Aqualina Slimline LED 36" lights.
Stand:
Comes with Tank.
Sump:
Still deciding between a glass or plastic sump. Will house skimmer, live rock and other media.
Refugium:
Not sure if will add a DSB or not - will grow some macro algae somewhere though...
Refugium Lighting:
Natural sunlight + LED.
Support systems:
System Water:
Natural salt water on start up. Planning to recycle water changes to save water as follows: Display -> grow-out -> plankton systems -> discard.
Display Water circulation:
Central riser pipe type overflow.
Return Pump:
Tunze Silence Pro.
Skimmer:
Bubble Magus BM-NAC220-CS Cone Protein Skimmer.
Evaporation Top Up:
Auto top up with RODI.
Any advice/comments are much appreciated! Looking forward to having all my aquaculture activities neatly tucked away and out of the house!