Manufacturer: Coral Planet/Coral-shop.com
Location: Czech Republic
Aust Distributor: Aquadepot
Who Stocks it: Aquadepot Stockists

Product: CS Potassium Test
What is it supposed to do?
Provide a clear and reliable indication of the level of Potassium (K) present in Salt and Freshwater.
So What comes in the box?
Syringes, tips, test vial, instruction sheet, gloves and 5 reagents.
The key thing about Coral-shop kits is they are not aimed at
people looking for the cheapest solution, they are aimed at glass box keepers who are looking for a quality easy to read solution and are prepared to pay a little more to not have to try and compare a bit of cardboard with a colour swatch to a plastic vial full of a pale barely tinted liquid.
How do you work this thing?
For the purpose of testing I had 4 seperate samples, 3 from working tanks and 1 from the Coral-shop STD2 comparison pack (also reviewed).
The sample from my tank is in the Sera vial, 2 samples from a fellow MASWA members tanks in the 2 large glass vials from the
CS Lab kit (also reviewed)
and the supplied plastic vial was from the STD kit.
Following the Coral-shop ethos of 1 of everything.
1ml of tank water into the vial.
1ml of reagent 1
Wait 5 mins, yes this is annoying but you can do a whole other test in the mean time.
1ml of reagent 2
1drop of reagent 3, the tip of the dropper is different to that which most users will have seen before and was very precise to use.
1ml of reagent 4
Draw 1ml of reagent 5 into the syringe and gently swirl the vial while adding the reagent from the syringe until the vial contents turn and stay blue.
This is where a lot of test kits are letting us down the colour change is subtle and easy to miss, or the change is only temporary. The Coral-shop K test turns a very obvious blue.
Now read the volume left in the syringe and compare this to the chart on the instruction sheet.
The 4 samples used for testing this kit all demonstrated crisp obvious transition to blue.
My Tank 391mg/l
Friends Indoor Tank 328mg/l
Friends Frag Tank 375mg/l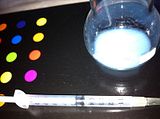 STD Kit Calibrated 400mg/l Comparison Fluid 399mg/l
Why should I buy it?
The target market for this product is clearly aquarists looking for a bit more than the cheapest possible option. The kits are more expensive than others, but the ability to see a crisp obvious transition in the titrant phase of the test means that it would be hard to misread the results.
What's it like to use
The items supplied all feel like they are good quality, there
are no signs of poor plastic moulding on the syringes or the tips. The glass pipette of reagent 3 and clear colour transition during titration make this kit extremely easy to work with. The annoying part of waiting 5 mins after adding reagent 1 is a let down, but as stated it would be possible to do other tests or tank maintenance tasks during this time.
Final Opinion
Would I buy it, yes. I am at the point in my reefing where I want clear easy to read kits and know you have to pay a little more to get this. If you are highly price sensitive you would probably be prepared to put up with less expensive kits and their downsides. Why should you buy it? Well the quality is unmistakable and the ease of use is great, the decision of Coral-shop K test is down to whether your wallet can justify it to get the added benefits.
Tech Specs
5 reagent, titration test.
Contents:
5x Reagent Solutions
2x Gloves
5x Syringes and Tips
1x Vial with lid.
1x Instruction sheet.